Readers,
Of all the great things my sewing teacher Edith has told me, the one that has made the biggest impression is "Avoid compounding errors."
At the time she was talking about the need to be precise in patternmaking, but I have thought of her principle dozens–no, hundreds!–of times over the years and have never found a situation where it couldn't be applied.
The last time "Avoid compounding errors" came to my rescue was yesterday, when I was mulling over the Fall Teaser selection from my Sawyer Brook Distinctive Fabrics swatch subscription.
Sawyer Brook had notified its subscribers that the latest batch of swatches had been mailed out Monday and would be arriving soon in our mailboxes. To whet our appetites even more, Sawyer Brook linked us to photos of all the fabrics we'd have exclusive access to for a limited time, so we could start planning our sewing projects.
I was especially taken by the vivid colors and high contrast of the photos of "Cameron – Red":
A softly combed cotton fabric in a beautiful red coral, gray, navy, and an off-white plaid pattern. This fabric is lightweight and has a soft hand. This fabric is lightweight and has a soft hand. Pattern vertical repeat is 4 inches. Suitable for shirts, skirts, and dresses.
So yesterday, when the envelope arrived I was expecting to see something bright and high-contrast. Instead, I saw this. It was drab.
Was my computer monitor off so much?
It took me awhile to realize that my sample didn't include the brightest shade of this red coral. Now, did I right away think to e-mail Sawyer Brook to request another sample that included the bright coral red so I could make a sound decision?
Nope!
Because I was too busy trying to find matches in my fabric and button stashes, my wardrobe, and even in another swatch subscription service.  A gray linen-cotton blend from Vogue Fabrics perfectly complemented this plaid.  Woohoo! 
Or was I heading for "Boohoo"?
Because I was getting dangerously close to committing a fabric-purchasing mistake I'd made numerous times in the past.
Sure, this plaid swatch worked beautifully with the gray linen blend, which I think would be a good pants weight. But did I want to build a capsule around gray–one of my least favorite colors?
I hadn't found one stash fabric or wardrobe item to coordinate with this plaid for early to mid-fall. Was I confident then that this fabric could be the basis of a new capsule? Would it be worth designing around?  Worth investing the time, money, and effort in?
I couldn't give a definitive yes to any of these questions.
Also, I noticed uneasily that my main enthusiasm was centering on justifying the cost of my swatch subscriptions. "If I buy this plaid from Sawyer Brook, and this coordinating solid from Vogue, I can earn this or that privilege…" popped into my mind. Discounts, credits, free extensions of swatching services should be only nice bonuses–not reasons to buy fabric.
I had been down this road before: allowed enthusiasm, insufficient reasoning, and misapplied logic to overrule common sense.. I was in danger of making one error–buying fabric too speculatively–which was likely to compound over time.
I would start by buying this yardage that I hadn't confirmed was right for me, although it wouldn't be bad–I'd just have to find the right coordinates to bring out its best qualities. After its taking up space in my stash for several years, occasionally being unfolded and folded again, I might buy a coordinating fabric to keep the first one company. In the meantime my tastes, activities, or coloring might change.
In any case, this fabric would never be quite right, never be worth investing effort in–and never get sewn.
I eventually acknowledged that I was up to my old tricks and stepped away from those tempting swatches for a cooling-off period. It was close, but I managed to avoid buying fabric for the wrong reasons.
Funny enough, though, also yesterday I did swoon over a fabric and I did buy it, and I had only online photos to judge from. I was paying my daily visit to Emma One Sock to check its latest additions and came across a blouse-weight striped cotton in summery tones: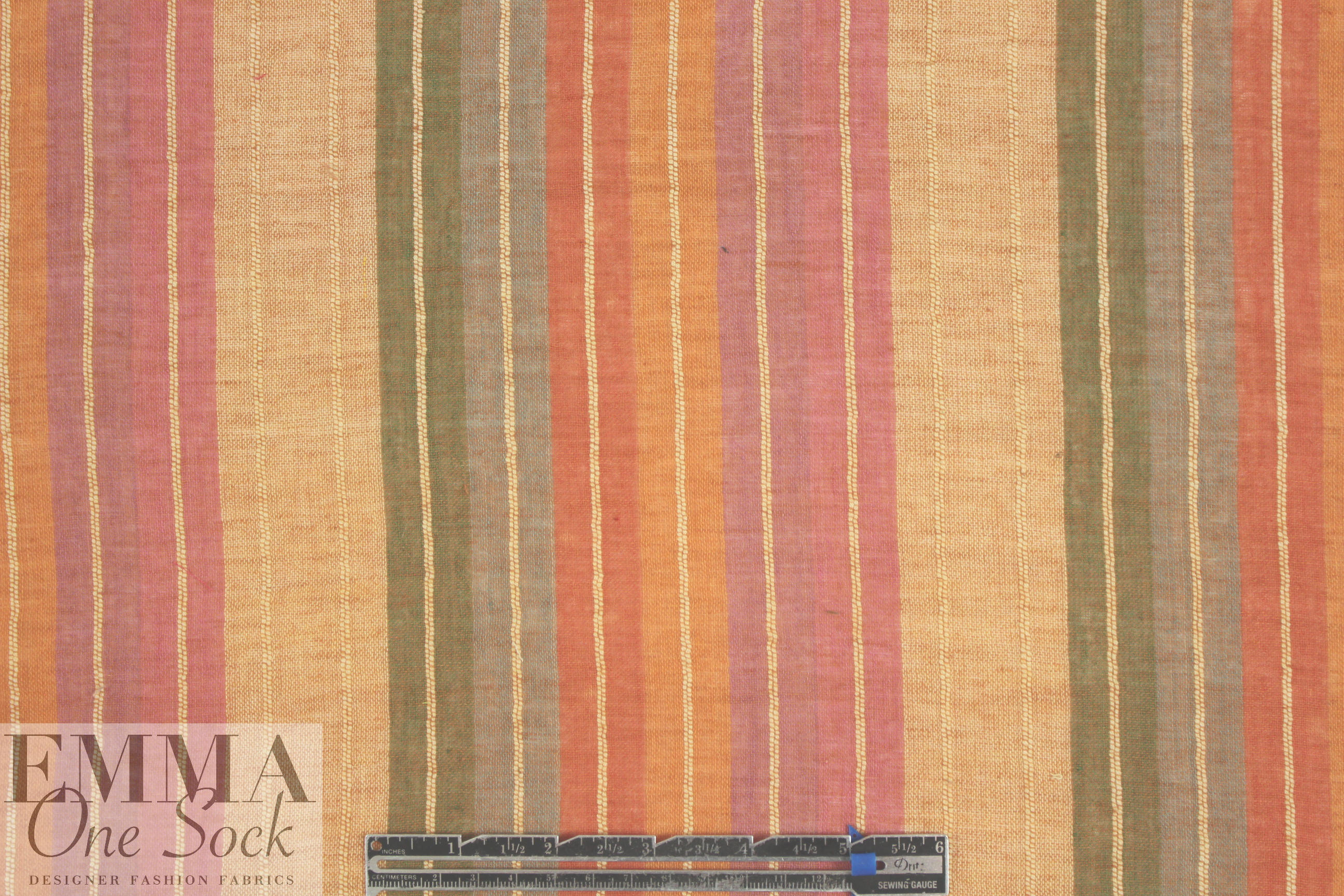 The description ran:
From an unnamed NY designer, this is a wonderful semi-opaque linen/cotton gauze novelty weave with a beautiful stripey (vertically oriented) design in shades of tangerine, orange, sorbet and greenish gray (PANTONE 18-1629, 15-1247,15-1318, etc.). Casual and light with lovely drape and gauzey texture, delightful coloring, make a fabulous blouse, top, tunic, shirt, dress, skirt, etc. Hand wash cold, hang or lay flat to dry (please test first!).
My reaction was swift and sure. I loved the colors, contrast, the unbalanced stripe pattern. I saw myself wearing this, in another rendition of the Vogue 8772 sleeveless blouse I have now sewn many times. I could see real possibilities for coordinates that I really would buy or sew and wear–soon. This could be a blouse for August heat or for warm September days.
I pondered requesting a swatch first, but yardage was limited, so I took the plunge last night and ordered a couple of yards.  I noticed this morning the fabric was sold out.
Although my decision was quick it didn't feel reckless. I think I had enough information to go on–not only from the seller but from myself. I know enough about my coloring, contrast, style preferences and silhouette. I have a fitted pattern I enjoy sewing, and know what coordinates go well with it.
In other words, I am beginning–at long last!–to experience the satisfactions of frictionless wardrobe-planning. This process, which has taken me far too long to recognize and develop, is the opposite of compounding errors. It identifies benefits and builds on them over time.
By the way, it eventually occurred to me to drop a line to Sawyer Brook requesting another swatch of the Cameron plaid, in both the Red and Pink versions.  I had pulled all the possible coordinating colors from my palette for each plaid and am seeing some intriguing possibilities.
(Note: My palette, "Enigmatic," seen above, is part of a color analysis system developed by image consultant Imogen Lamport and is one of the benefits of her 7 Steps to Style program, which is described here in case you're interested.)